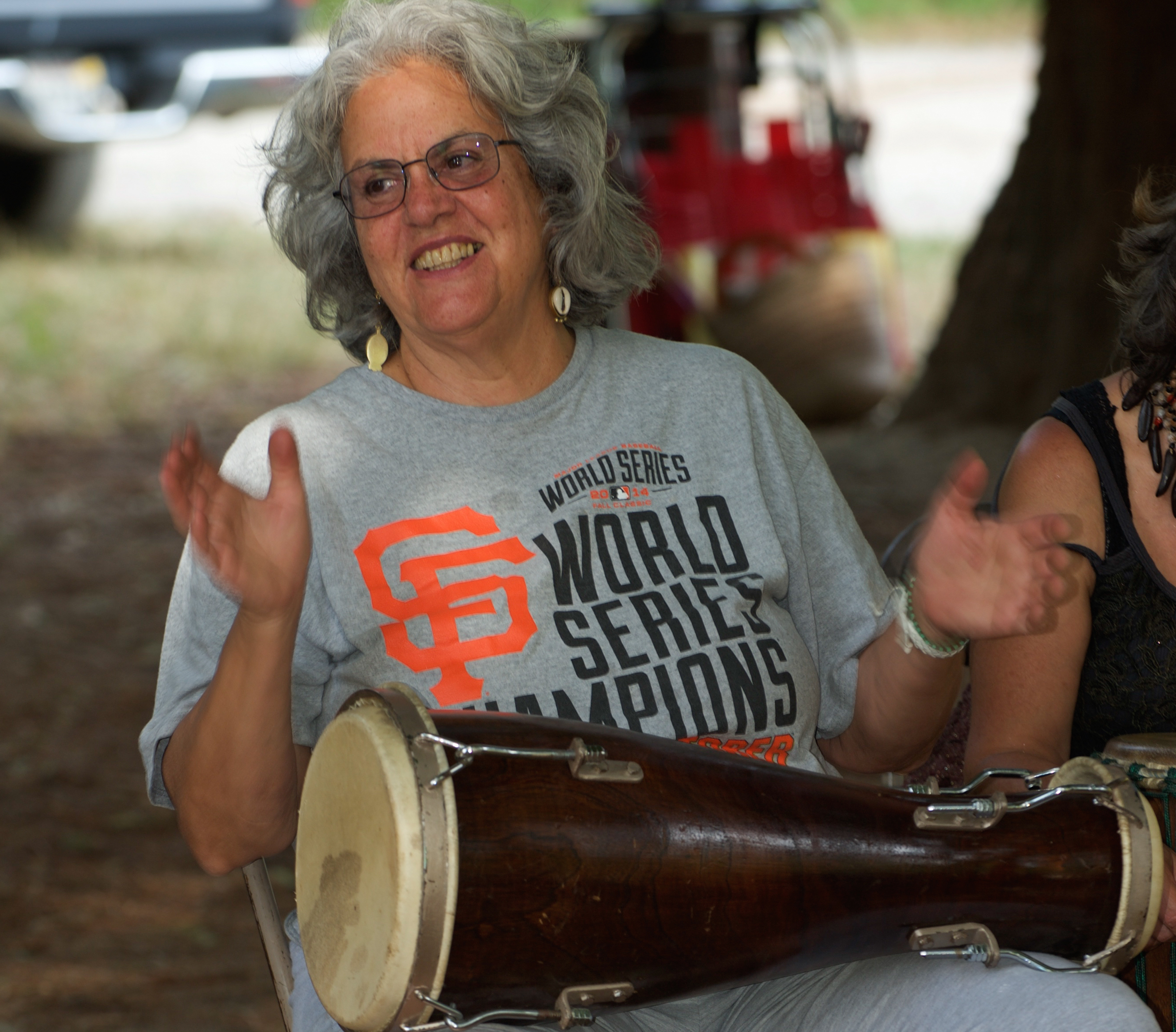 OCT. 6 – DRUM SUNDAY 
CAROLYN BRANDY
Bembé – Songs and Rhythms for the Orisha
Come learn some of the beautiful Orisha songs and the rhythms that accompany them. The Orisha were brought to this continent during the Diaspora and preserved in Cuba. They are the natural forces of the planet: the ocean, rivers, wind, thunder & lightning, herbs and medicines and many more. We will use congas, sticks, bells, shakers and any other percussion you want to bring.
DRUM SUNDAYS are drumming workshops presented on the first Sunday of every month by one of our FANTASTIC Maestra drummers from Born To Drum.
WHERE:  ASHKENAZ Music & Dance Community Center ~ 1317 San Pablo Ave. Berkeley, Ca. 94702 ~
1:00 – 3:00pm ~ In The Back Room.
COST:   $25 – $10 (sliding scale);
Under 12 yrs free;
No one turned away for lack of funds
Classes are open to ALL LEVELS.  There will be a limited number of drums to borrow on a first come first serve basis.
CAROLYN BRANDY
… is a percussionist, composer, performer, educator, and cultural worker.  She started playing the conga drums in 1968, and is a pioneer in opening doors for women in the traditionally male world of percussion.   She has played with many groups in the Bay Area, including the all women jazz quintet, Alive!, Faye Carol, and Ojalá.
She is the founder of the non-profit organization, Women Drummers International, and is the producer of the Born To Drum Camp for women, which was created to inspire and empower women students, teachers and performers of hand percussion. The camps have been overwhelmingly successful, and have been produced from 2006-2019.
Carolyn has been a student of Cuban folkloric music for over 40 years. She has led six tours to the Island of Cuba to study folkloric music and dance with masters of Afro-Cuban folkloric music.
Carolyn has a degree in music from Holy Names University in Oakland.
Contact Carolyn for more info: www.borntodrum.net, www.womendrummers.org, cbrandydrum@gmail.com