FEB 2nd Drum Sunday!

Larissa Montfort
    Djembe Joy!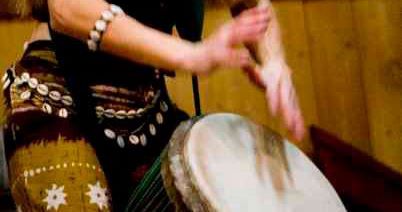 Bring your playful drumming spirit to this all level drum class. We will review basic drum technique and learn rhythms and songs from West Africa. Bring your hand or stick drums and percussion instruments such as shakers and bells. There will be a few extra drums to share. Let's drum up some magic!
DRUM SUNDAYS
are drumming workshops presented on the first Sunday of every month by one of our FANTASTIC Maestra drummers from Born To Drum.
WHERE:  ASHKENAZ Music & Dance Community Center ~ 1317 San Pablo Ave. Berkeley, Ca. 94702 ~
1:00 – 3:00pm ~ In The Back Room.
COST:   $25 – $10 (sliding scale);
Under 12 yrs free;
No one turned away for lack of funds
Classes are open to ALL LEVELS.  There will be a limited number of drums to borrow on a first come first serve basis.
Larissa Montfort has been exploring her passion for West African, Congolese, and Afro-Cuban rhythms since 1995 with many teachers, including Mabiba Baegne, Ubaka Hill, Yona Fleming, Malonga Casquelord, Stori Davis, and Afia Walking Tree. Larissa traveled to Guinea, West Africa to study dance with Youssouf Koumbassa and Yamousa Souma and djembe and dunun with Amadou Camara and Lamine Dibo Camara.
Larissa continues to apprentice with her primary mentor, Afia Walking Tree. She performs with Afia Walking Tree's Spirit Drumz ensemble as well as with Mamayah, a Sonoma County-based women's West African drum ensemble. Larissa assisted Ubaka Hill at Michfest where she helped teach and direct the Drumsong Orchestra.
Larissa accompanies dance classes, women's rituals, and healing circles. In her own words Larissa shares: "Drumming allows me to express my joy, strength, and freedom, while serving the spirit of the music, the dance, and the empowerment of women."