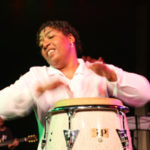 FEB 3rd, 2019  
PETA ROBLES: 
CAJON RHYTHMS FROM PERU! 
DRUM SUNDAYS are drumming workshops presented on the first Sunday of every month by one of our FANTASTIC Maestra drummers from Born To Drum.
WHERE:  ASHKENAZ Music & Dance Community Center ~ 1317 San Pablo Ave. Berkeley, Ca. 94702 ~
1:00 – 3:00pm ~ In The Back Room.
Cost is $25 – $10 (sliding scale);
Under 12 yrs free;
No one turned away for lack of funds
Classes are open to ALL LEVELS.  There will be a limited number of drums to borrow on a first come first serve basis.
Cajon Rhythms from Peru with Peta Robles
Learn Afro-Peruvian songs for cajon (box drum). Bring a cajon if you have one, but other drums can be used so bring what you have. Some drums will be available for loan on a first come, first serve basis.
Talented PETA ROBLES is one of the few most amazing female percussionists of Peru. She was born in Lima, Peru in a family of musicians where she began to play Cajon and other percussion instruments since she was just a child. As a young adult, she became the National Champion of Female Percussionists in Peru. She has traveled through Europe, North and South America as an ambassador of Afro-Peruvian music. Choreographer, instructor and lead percussionist of the famous Afro Peruvian company TEATRO MILENIO for more than 15 years. Peta, currently teaches CAJON at La Pena Cultural Center in Berkeley and is incredibly imaginative to create music with non- conventional instruments. Peta is working in residence with DE ROMPE Y RAJA cultural association since October 2012 promoting Afro-Peruvian music in the Bay Area.